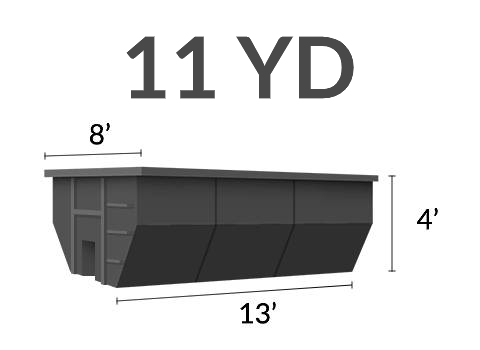 20 Yard Dumpster
If you need a small dumpster rental to help get rid of your project junk and waste, then our 20-yard dumpster rental is the perfect option. This bin is ideal for small-scale residential projects like an attic or garage cleanout or small landscaping project. This small but mighty container can handle up to 1.5 tons of junk at once.
---
Book Now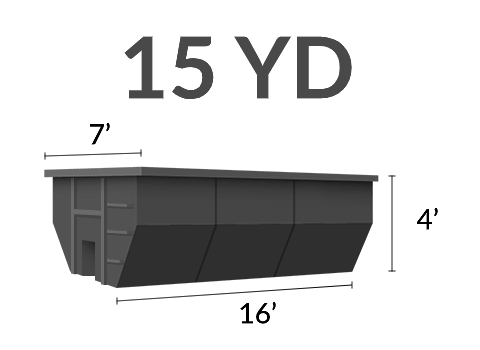 15 Yard Dumpster
Our 15-yard dumpster rental is great for mid-sized jobs and clean-outs. This bin can be used to remove a large amount of junk and the low walls make it easy to load.
---
Book Now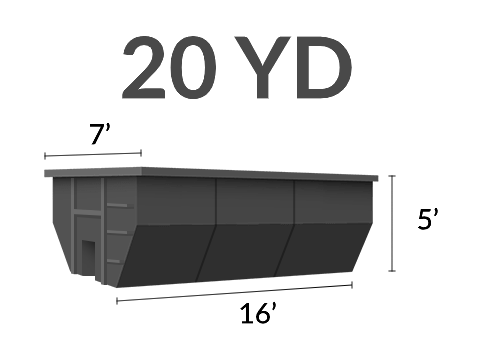 20 Yard Dumpster
Our largest option is our 20-yard dumpster rental. This extra-large bin can help you efficiently complete even your largest projects like home renovations and remodels.
---
Book Now
Dumpster Rentals for Roofing Projects in Irving
Waste and trash is created whenever any kind of construction/demolition happens, such as roofing, building or remodeling. It is composed primarily of inert and non-biodegradable products such as shingles, roofing paper, nails, metal edging, wood trim, plastics and so on. A roofing dumpster is a great way to maintain your
Irving
property during your roofing projects. They can be used to keep all trash in one place and keep it from blowing around your location. It also is a great way to keep trash from piling up in the wrong place. Some particles like sawdust are always going to be too small to keep out of existing landscaping and nails will appear for days after an installation, but by renting a dumpster it will certainly make it easier to manage. By renting a roofing dumpster, you can save wear and tear on your trucks that can be caused by hauling old roofing materials away in numerous trips to the landfill.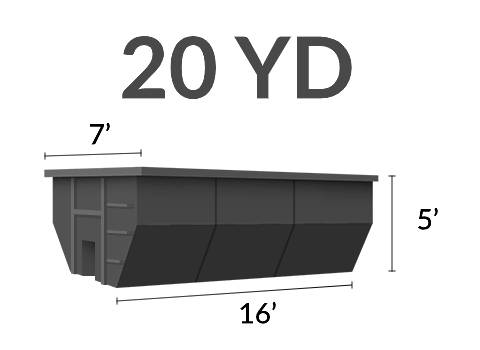 20 Yard Roofing Dumpster
Built for handling the toughest loads, our Roofing Dumpsters will help you contain the waste from your projects.
GREAT FOR:


Roofing projects
Construction
Household Debris
Furniture
Medium to large home cleanout jobs
Flood / Fire Restoration
Spring cleaning or Fall cleanout
Useful with small driveways
Estate sale auctions
Order Dumpster Now!
How Roofing Dumpster Can Benefit Your Irving Business
Great for Both Large and Small Job Sites
A roofing dumpster is needed any time a roof is being replaced. The amount of debris from removing old roofing tiles, tar paper or roofing felt and all of the nails can be overwhelming. There is always additional work that pops up once the old roofing materials are gone as well. Replacing wood, soffits, or even joists is not uncommon.
By having a roofing dumpster on the job site in Irving, crews can stay focused on the job at hand and not have to worry as much about fitting all the materials in their trucks or trailers. While most roofing projects are done in a day or two, dumpsters can be rented by companies on a short- or long-term basis. We allow customers to keep their dumpsters for up to 7 days, but are also available to haul them away after only a day if required.
It's easier for your roofing crew to have a single place to dump all of the waste, and it helps you have the peace of mind that comes with knowing your project will look spotless and professional when the job's done and the dumpster's been hauled away.
Roofing dumpsters are also known as roll-off dumpsters due to wheels on the bottom that help haul the containers away. We offer 15-yard and 20-yard capacities, they are an ideal solution for a wide range of roofing projects on residential or commercial job sites.
Save Time and Money and Increase Customer Satisfaction
The old adage "time is money" cannot be any more true on a roofing site. Having to load up a truck with roofing and construction debris and drive to the city or county dump to unload it is time that could be spent working to finish the project. All builders know that the faster they can complete a project, the faster they get paid and can move to the next job. Many of the crews on a roofing project understand that they cannot get another job until the one they are on is completed to satisfaction. By keeping them focused on the job and not having to make trips to the dump, they can finish sooner allowing more total jobs to be completed each week.
Companies in the past have even gone so far as to hire people who do nothing more than load trash and take it to the dump. By having a roofing dumpster on the jobsite, that person can spend more time getting the nails and smaller debris created from roofing projects which will result in happier home owners and the potential for more referrals to their friends and neighbors. They can also be used in other areas of the roofing project to help speed the project to completion.
One of the number one complaints about roofing projects from homeowners (aside from the noise of hammering) is the trash around their home. Being able to control the trash by having a open-topped dumpster within easy access makes it easy for crews to use. The less mess a jobsite is during and after the project is complete leads to a better customer experience which in turn will lead to referrals and higher reviews.
We take the headache out of the disposal process as well. No need to deal with the wear and tear of your trucks and trailers as debris is thrown in. Fill up the dumpster, call or text us to let us know it is ready for pickup and we take it from there. You go back to doing what you do best and what you love.
Roofing Dumpster Placement Can Be Key
Having a dumpster placed in the middle of your traffic pattern on your jobsite can be a pain. Placing it so far away from the site means time spent hauling it to the dumpster. It is much easier to find a place to have it readily accessible, but also out of the way of vehicle traffic. The last thing you need is to have a delivery truck show up to drop off your roofing materials and lumber or other supplies and then not be able to get it to the best location because the dumpster is in the way. Your crews will be happier too as delivering the materials closer to the building means the less they have to carry it to the lift.
We work with you on the best placement before and again confirm when we deliver to your Irving jobsite.
Not all dumpsters are the same size
Not all projects require the largest roofing dumpsters in Irving. They come in various sizes and you can find one that suits your needs for large jobs or small ones. Also, you can choose to have them for a short-term clean up or keep them for a while to accommodate a larger roofing project.
Everyone in the roofing industry will agree that roofing tiles and shingles are heavy. That weight must also be taken into consideration when choosing a roofing dumpster. Just because it all fits in the dumpster, doesn't mean that they will be within the allowed weight limit. This may result in additional costs.
Many people look to get a 15-yard dumpster rental for their roofing projects. It is a great starting point for smaller jobs. A 15-yard roofing dumpster should be fine for a roof of 2,500 square feet of 3-tab shingles or 2,000 square feet of architectural shingles.
We also offer a 20-yard dumpster rental at affordable prices. Having the extra space is great for your projects as it can help with the debris from the inevitable additional work that is revealed after the roofing materials are removed. A 20-yard dumpster will work for a roof that is 3,000 square feet of 3 -tab shingles or 2,500 square feet of architectural shingles.
You can always
call or text us
to discuss your project. We are always willing to discuss your roof's square footage and the type of shingles you'll be disposing of to help you choose the right dumpster size with the right weight limit for your specific roof removal project.
It's time to get a roofing dumpster rental and take control of your trash
If your goal is to help streamline your project and cut down on labor costs associated with hauling trash to the dump, roofing dumpsters can be a great way to do it. There is no better way to get things under control than to hire a roofing dumpster rental company to take care of the trash created.
If you're looking for a reliable trash management and disposal service, Cowboy Dumpster Rentals offers a selection of commercial, residential, and roofing dumpsters.
We take the work out of waste management for you. We are a family-owned, full-service company that will help you with choosing the right size and scheduling so that you get the best quality dumpster and a team to handle your waste disposal.
You can
call or text us
and we can work with you for your best solution or you can
Order Online
and schedule the day that is best for your project.
Yes! We have roofing dumpsters for rent in Irving!
While we mainly operate within a 30-mile radius of Irving, TX, if your project site is beyond that radius, just let us know! We frequently deliver even farther out, and special accommodations can usually be made to suit your project - and your wallet.
NOTE: Extra fees may vary depending on how far you are outside our service area.
We also offer dumpsters for
residential use
and
construction projects
in Irving.

Roofing Dumpster Rental FAQs